Our Software is Shortlisted for UK Horticulture Sector Award
Our team have impressed the judging panel at the UK Grower Awards with a sophisticated online ordering system for the horticulture sector.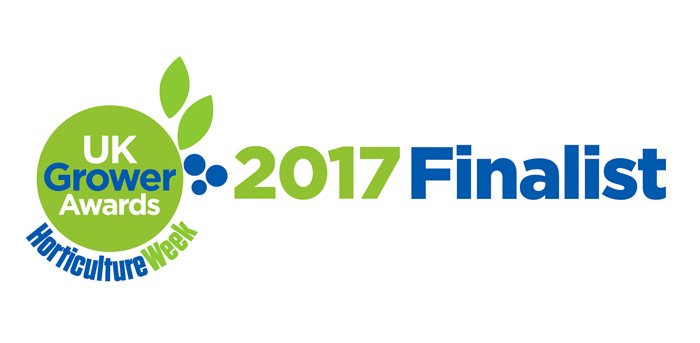 Our portfolio of work also includes stock management systems, time management systems, intranet portals, brochure and e-commerce websites and more, but one product in particular has kept us busy and challenged over the past few years – the design and development of an online ordering system specifically for horticulture businesses.
The web based system is currently being utilised by a number of fruit, vegetable, plant and flower growers in Ireland and the UK and has recently been shortlisted in the Best Professional Product category. Members of our team will now jet off to London for the glittering awards ceremony at the Grand Connaught Rooms on Thursday 23rd February.
We developed the first version of the online ordering system in 2013 for McGrane Nurseries in Co Armagh, one of Ireland's leading producers of bedding plants, pot plants, summer perennials, fruit, vegetables and herbs. The team at McGrane Nurseries struggled to find an existing online ordering system that was user friendly, cost-effective and met their needs, therefore commissioned us to design and build a solution that would make the ordering, processing and distribution processes more efficient.
Prior to using our online ordering system, 3-4 of McGrane's staff spent hours each day manually inputting orders. The new web shop which is accessible via the company's website enables McGrane's customers to create a secure account and place their orders online. The system contains up to date stock information, product images, customer data, pricing and discount information, all in real-time. With customers placing their own orders, growers can maximise their productivity and achieve considerable time and money savings, whilst also reducing errors in order placement.
Our customers are very positive about our online ordering system and are also giving us ideas about how to improve it.

We previously engaged two other web companies who could not provide the standard of product for us that Output Digital did. Every member of their staff is great to work with. They contact us regularly just to see how things are going and if we need any help. Their communication has been really good throughout the whole process and they have greatly helped us to achieve a new level of professionalism."

Johnny MacKinnon

McGrane Nurseries
Over 90% of McGrane Nurseries clients are now using the system to place their orders and the impact on our client and their customers has been remarkable. McGrane's have been able to reduce the number of stages in the process from order placement to distribution, resulting in faster processing and delivery to customers, who are undoubtedly delighted. They have also secured new customers who are impressed with the ease of use presented by our web based online ordering system. Since its introduction McGrane Nurseries have experienced a 15% increase in sales.
Our team are also skilled at software integrations and our system fully integrates with Passfield Data Systems, one of the primary software systems on the market for nurseries and horticulture sector companies. This streamlines operational and financial reporting processes for its users, meaning they can access all of their data and run reports from the dashboard in their ordering system.
But our success hasn't stopped there. Our software has been rolled out to other growers including Young Nurseries (Ireland) and Nursery Fresh (Great Britain). We're also currently customising the solution for three additional English growers - Barnsfold Nurseries, Bryants Nurseries and Quantil. This demonstrates both the demand for the product and its effectiveness for horticulture businesses. Our development team also continually work on developing new modules based on customer feedback to ensure our product meets the needs of all growers.
We're looking forward to hearing the results at the upcoming awards ceremony and will keep you posted on how we get on. In the meantime, if you'd like to chat about any business challenges you are facing that could be automated or improved with web or software solutions, drop us an email to hello@outputdigital.com or call us on 028 9064 9313 and we can discuss some ideas to help your business operate more efficiently.
Back to blog